Veterans History Project
About the
VHP
Help us create an important national collection of personal histories from our American heroes by taking part in the Veterans History Project (VHP). The Warhawk Air Museum, in conjunction with the Library of Congress, is working tirelessly to video tape as many veterans as possible, so that future generations will understand we owe our freedom to the bravery and sacrifice of those who served.
If you are a veteran, please consider sharing your story. The VHP collects stories from men and women from all branches of service as well as the contributions of civilians, such as war industry workers and medical volunteers, who served in support of the armed forces. For more information, contact us at (208) 465-6446.
We need volunteers! Without volunteers this undertaking would be impossible. We need individuals to interview and/or videotape war veterans and edit the footage. If you are a company, civic organization, government agency, museum, library, college or university you can assist us by providing volunteers, publicity, equipment, or funds for this worthwhile project.
Look through and watch our current collection of interviews below or
Voices from the
Warhawk Air Museum
We've put together a book featuring some of our best Veterans History Project interviews and it is available now in our gift shop for $15! All proceeds support our Veterans History Project!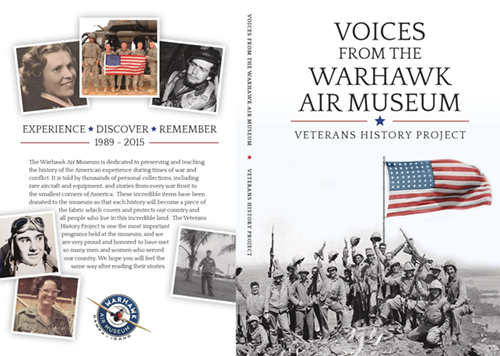 Sort interviews by branch of service:
And/or scroll down to a specific time period:
2001–Present
Includes the Global War on Terror (Operation Enduring Freedom, Operation Iraqi Freedom)
Back to top
---
1976–2000
Includes the Persian Gulf War (Desert Storm) & Cold War tensions
Back to top
---
1955–1975
Includes the Vietnam War & Cold War tensions
Back to top
---
1947–1954
Includes the Korean War & Cold War tensions
Back to top
---
Pre 1947
Includes World War II
Back to top
---
Sign up for a VHP interview: