Legacy Brick Program
Leave a mark that will last a lifetime!
They say the road to the future is paved by history. Be part of both with a Legacy Brick at the Warhawk Air Museum. For just $100–$125, you can honor your personal hero, loved one, serviceman or servicewoman with a commorative brick at the Warhawk.
These classic gray bricks will be permanently installed at the museum (exact time & location to be determined). The Legacy Brick Program is a fundraiser for our Post 9/11 Hangar Expansion Project.
---
Option 1 – $100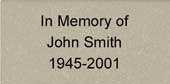 Three lines of personalized text w/20 characters per line allow you to list your name, the name of a veteran or civilian, military unit, squadron, ship or branch of the armed forces, dates served, or a special message to a loved one – the choice is yours!
Option 2 – $125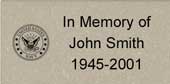 Three lines of text w/12 characters per line to list the name of a veteran, military unit or squadron, dates of service or birthdate, plus your choice of an emblem with the branch of the armed forces they served in.
---
Legacy Bricks are limited! Order online using the link below, or download this order form and pay with check.
Thank you for your support!