Profiles in Courage: William "Bill" Gornik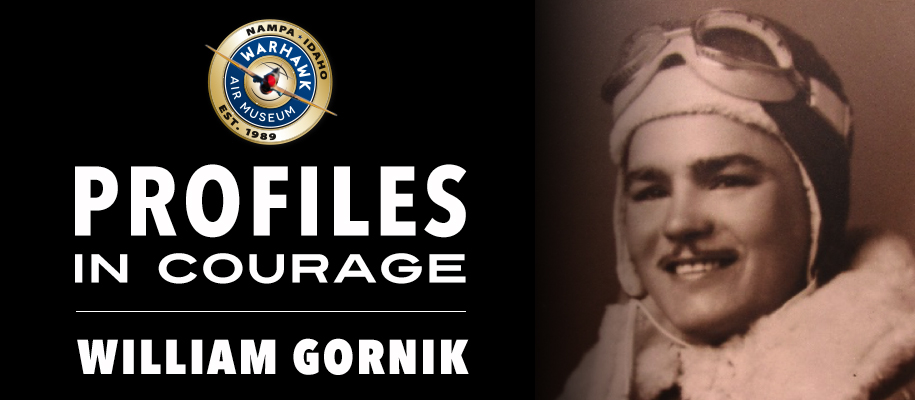 By: Warhawk Air Museum
Posted On: May 22, 2020
The Start of a Career—Schooling
On September 3, 1942, William Gornik was sworn in as a private in the United States Army Air Corps. Basic Training was three weeks at St. Petersburg, Florida and then a train ride to Gulfport Field, Mississippi for three months of Airplane Engine and Mechanic School. Bill trained with the "third shift" group, training from midnight to 8:00 am. Bill then applied and was accepted for Aviation Cadet Training to become a pilot. After arriving at San Antonio, Texas, Bill spent eight weeks learning navigation, aerodynamics, meteorology, weather, Morse code, and physical fitness in Preflight School before going to Cuero, Texas, where he flew his first solo flight (before he drove his first car) at the Brayton Flying School. But an Instructor Pilot thought that he did not progress satisfactorily and recommended that further instruction be terminated. Bill recalled, "I was devastated but undaunted (and) I vowed to prove the Army Air Corps wrong." Schooling was not over as Bill headed to Las Vegas, Nevada, for Aerial Gunnery School. After the completion of this training, Bill received his Aerial Gunners Wings, a Good Conduct Medal, an American Theater Service Ribbon, and advanced to the rank of Sergeant. Yet, schooling was still not over. Bill traveled to Columbia, South Carolina for his Overseas Training Unit. After completing this final training, he was advanced in rank to Staff Sergeant.
Tour of Duty in China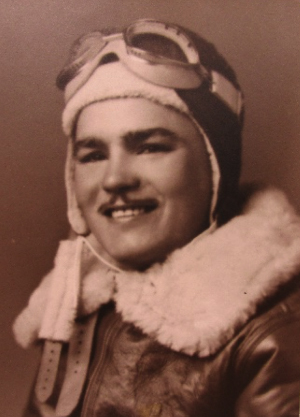 Bill described the tour as starting with "A 60+ mile, 6×6 truck ride over a dusty dirt road from Kumming to Yangkia," China. "Upon arrival, our initial crew orientation meeting was a disappointing and fateful bit of information that would prove to be disastrous in just a few weeks." The fateful bit of information was that "new crews" were split up for the first few weeks to gain experience and to "become acclimated to the combat environment" before being allowed to fly a mission as a team. Less than a month after they arrived in China, three of Bill's men did not return from a mission. Another member of the group was transferred to India. Bill was the last one of the original 5-man team. He would spend the rest of his tour as the "spare" Engineer/Gunner. Bill flew "with 12 other crews when a regularly assigned Engineer/Gunner was ill or duty to other commitments. After compiling 46 missions during over 200 combat flying hours, my tour of duty ended in March 1945". He was promoted to Technical/Sergeant (T/SGT) and in October of 1945 Bill was discharged and returned home to Enhaut, Pa.
Marriage and Return to the Military
Two days after Valentine's Day, on February 16, 1946, Bill and his sweetheart, Dorothy, were married. Bill was hired as a Millwright Helper at the U.S. Steel Corp., National Tube Co., Lorain Works. He recalled
The problem, however, was the fact that I was a new employee with no seniority—a very important negative factor in a strong labor union plant. Trying to get ahead through hard work, perseverance and loyalty to the company was impossible for hourly wage employees. After 2.5 years of total frustration, including ridicule by my co-workers for working hard (i.e., I can't get ahead of them anyway), I finally decided to re-enlist in what was now the U.S. Air Force.
With the full support of Dorothy, military life began with the new duty station of Williams Field, Chandler, Arizona.
Erding Air Depot
After five sea-sick days across the Atlantic in an older WWII troopship, followed by a road trip on the autobahn, Bill and Dorothy arrived at a former German Luftwaffe Air Base, Erding Air Depot in Bavaria. Bill recalled his duties as:
The final two years of my 3-year tour of duty were as Hangar Chief with supervisory responsibilities over an average of 30 USAF Airmen and NCOs and as many as 100 German aircraft mechanics and specialists. Our job was to dismantle completely (i.e., remove all wiring, control, cables, tubing and every part that was bolted together) C-47 aircraft to a skeletal condition and installed on cribbing, supports, jacks, etc., After a thorough inspection of the entire aircraft structure for structural damage due to corrosion and /or metal fatigue, the aircrafts were completely restored to original factory assembly plant condition.
Bill and Dorothy had one son, Mark, who was born in 1951 in Germany. It was to the great relief of the entire family that when orders came to return to the U.S., the trip would be made by plane and not by ship!
Where? In Idaho?
It was a pleasant surprise when Bill received his assignment orders for Travis Air Force Base, California. Bill remembering those days said:
While visiting with Dorothy's family in Lorain, Ohio, I was surprised and disappointed to receive a telegram (TWX), which stated, "Disregard Travis AFB and proceed to Mountain Home AFB, Idaho instead." At that time, I had very little knowledge of Idaho and certainly never heard of Mountain Home AFB. Although disappointed, but with a sense of adventure, we started out in early August on a revised route west to our new assignment in Idaho.
From August 22, 1953, to May 31, 1964 (10.5 years), Bill and his family called Mountain Home AFB home. Bill's "duties as the NCOIC of the Product Improvement Control Section that was particularly important since the B-47 was a relatively new addition to the USAF and early detection of potential problems was essential."
By April 1, 1964, Bill had started his 19th year of active military service and started to consider retirement. He was approached by a young Lieutenant who asked him to confirm name and rank. Then the Lieutenant asked Bill a series of personal questions. After all the questions were answered to the Lieutenant's satisfaction Bill was told he was being considered for a "special project." All plans for retirement were set aside when orders came for Edwards Air Force Base in California.
Later, Bill recalled "there is nothing more frustrating than being assigned to a "cloak and dagger" outfit, which required double-checking of security clearances, briefings, and waiting, and waiting, and waiting….Finally, after approximately three weeks, we were briefed and cleared to start as part of the YF-12A Test Force," the unit responsible for the super-secret strategic reconnaissance SR-71 Blackbird program.

Starting and Ending of a Tradition
The SAC (Strategic Air Command) SR-71 unit at Edwards AFB, California with all of the different individuals, ranks, and duties began to gel into a highly motivated and professional unit. Perfection was the order of the day with the philosophy to "work hard and play hard." Friday Nite Forays became popular with most individuals arriving from the flight line in "fatigues" (work uniform) or the Class A uniforms. Bill explained:
It was on one of these fateful evenings that Technical Sergeant Don Person came into the club neatly attired in dressy trousers, white shirt, sportscoat, and tie. At this point in time in the evening, most of us were pretty well "into our cups," and the sight of Don in his fancy "go to meetin' duds" created quite a stir. After much teasing, fun-poking, and more guzzling, somebody made the off-handed remark that it wasn't proper for Don to be wearing a tie in our presence, and the only alternative was to cut the tie off. I took my knife out, exposed the small 2" blade, and playfully pretended that I was going to relieve Don of his tie. Initially, I was only joking, but after much coaxing and questioning of my "manhood," I reached up, grasp the tie just below the knot, gave one quick snap, and all that was left was the tie knot. Up to this point, Don went along with the threats and joking, but when he saw the ends of the tie in my hands, there was a look of disbelief, dismay, and a tinge of anger on his face (all of which lasted about 2 seconds.) Little did we realize that Don was dressed up to take his wife Fran out to dinner to celebrate their wedding anniversary and that the tie was supposedly an anniversary present from Fran. Naturally, all of us, and especially me, felt remorseful. As a token of our repentance of this dastardly act, we decided to fasten the remnants of Don's tie in a place of honor at the top of the Fakawee Flagpole as our first "Battle Streamer."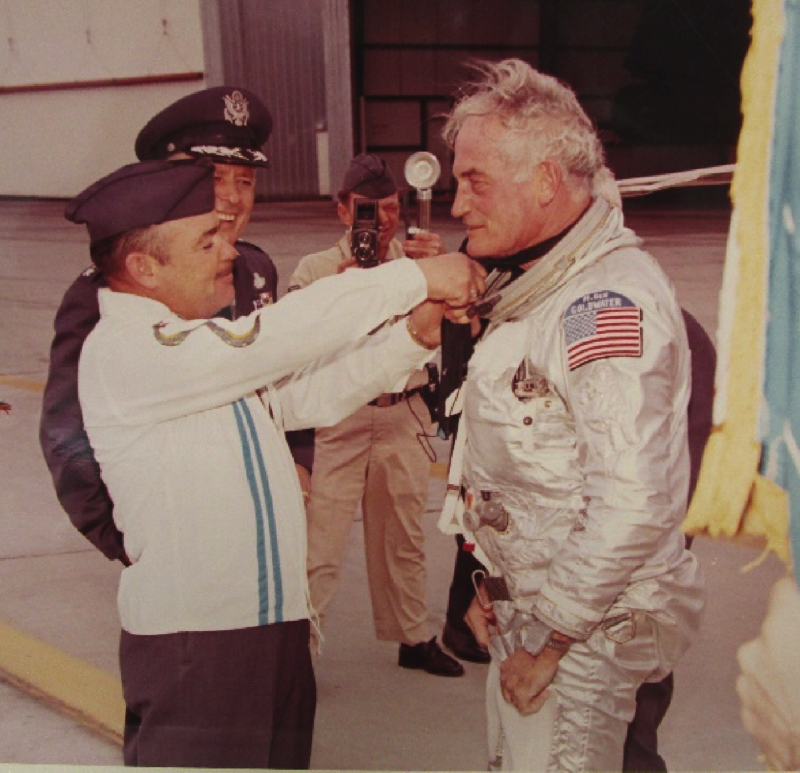 That was the start of the tie cutting ceremonies, but soon it was that whenever a crew completed their first combat mission, they would be accorded the honor of having their tie cut off. Soon the ties began to pile, necessitating a system of proper identification and also a suitable display. It was decided to have the names of the individuals embroidered thereon, and they would be mounted on a pole decorated with the blue and white colors of the 9th Organizational Maintenance Squadron. The tie cutting ceremonies would last for 25 years ending with the formal retirement of the SR-71 Blackbird as an active aircraft in the USAF inventory in January of 1990.
Retirement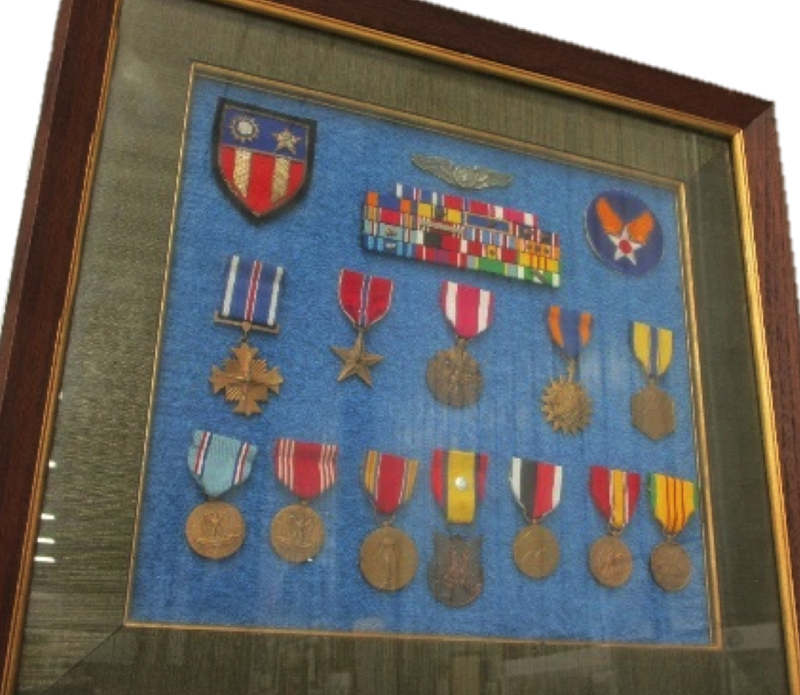 Bill and Dorothy, along with their children Kim and Mark, made the move back to Idaho after Bill retired with the rank of Chief Master Sergeant after more than 26.5 years of active duty. His awards include Aerial Gunners Wings, Air Crew Wings, the Distinguished Flying Cross, the Air Medal, the Asiatic/Pacific Campaign Medal with three bronze Campaign Stars and the China Service Medal, the WWII Victory Medal, the WWII Service Pin, the German Occupation Medal, USAF Good Conduct Medal, USAF Longevity Ribbon, USAF Outstanding Unit Award with two Oak Leaf Cluster, the Presidential Unit Award with one Oak Leaf Cluster, the NCO Academy Medal, the Marksmanship Medal, Air Force Commendation Medal, National Defense Medal, Vietnam Service, and Campaign Medals, Bronze Star Medal, and the Air Force Meritorious Service, Medal.
"Because of those who fought, we have freedom. May we never forget their sacrifice." (Kim Gornik May 14, 2020)
We wish to thank Kim Gornik for helping us present her father's story.
We are open for visitors and Bill Gornik's exhibit at the Warhawk is #97 for further viewing along with many other interesting and inspiring stories.
Learn more about our Profiles in Courage Project.