Profiles in Courage: Jim and Nora Durfee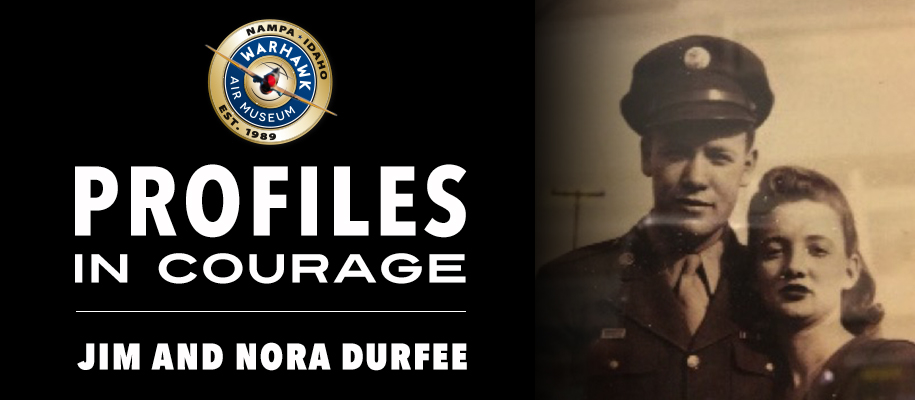 By: Warhawk Air Museum
Posted On: March 30, 2020
Training for Flight
Jim, a young 17-year-old from Idaho, joined the Army Air Force in 1942. His basic training was at Buckley Field, CO, but his thoughts were with his sweetheart, Nora, back in Jerome, ID. After basic, Jim reported to Kingsman, AZ Gunnery School for Ball Turret Training on B-17s, and then Ardmore, OK for Crew Training School. Jim was assigned to the 303rd Bombardment Group, activated February 3, 1942, and began flight training at Gowen Field, ID.
Soon, orders came for deployment overseas, and the brave group of men flew their first combat mission on November 17, 1942.
Thoughts from the logbook
Jim's logbook reveals some of the dangers that this young gunner was in. On his 2nd mission dated July 12, 1944, he wrote, "Lost Hydraulic fluid—used water and urine for brake fluid. No one hurt." The next day, July 13th, his plane was hit, receiving "4 holes," but luckily, again no one was hurt. His 5th mission dated July 20th, 1944 was a success with the plane not fired upon. Jim wrote "I want to be a permanent K.P. (Kitchen Patrol). This isn't fun or healthy."
On the 16th mission dated September 28th, 1944, Jim noted, "Within 3 to 5 minutes, 10 out of 12 of our Group was in flames." His plane landed with "over 100 holes in all." Jim's comments on this mission revealed his emotions: "I thought we was all going to die. First time I ever prayed for my life. NO ONE WAS HURT. I arrived back to base at 1535 (3:45 pm). I drank all the whiskey I could get my hands on—We was all nervous wrecks. I'm starting to sweat these out. This ain't a bit of FUN." The plane, unflyable, was later sold for scrap metal in 1945.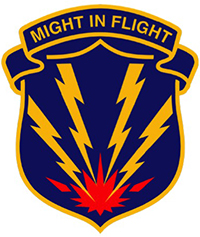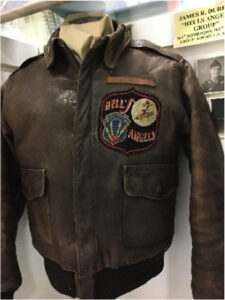 Staying in touch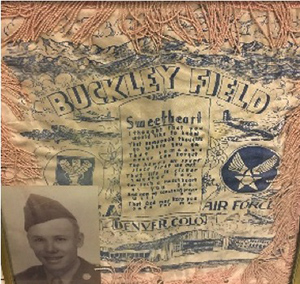 Although we do not have a detailed account of Nora during the time that Jim was deployed, we can assume she continued to attend High School and wrote many letters. The soldiers in World War II did not have the luxury of the internet, so they communicated through letters. Lots and lots of letters. These letters, of course, had the "I miss you" and "I love you" moments, but they were also full of encouragement and news of happenings on the homefront.
The letters became a double-ended life line and an extension of one's voice to the recipient. One end was for the soldier to receive news from home, reassuring him that he was missed, loved, and not alone. On the other end, the families, in this case Nora, treasured each letter because it was her sweetheart taking the time to write, letting her know that he was still alive and thinking about her.
Life after War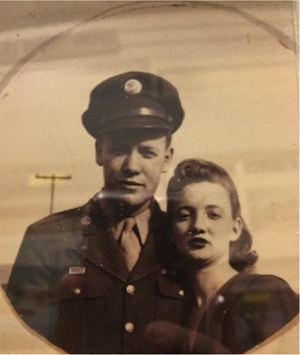 Jim completed 30 missions and then returned home to the ones he loved, including his girl, Nora. In January 1945, he proposed, she said yes, and the marriage day was set for February 8th, 1945. Nora was 17, and Jim was 19 years old.
Jim and Nora settled in Mountain Home, ID, where Jim finished his pilot training and joined the Civil Air Patrol in 1952. He was also an ironworker for 35 years and retired in 1987. Nora and Jim raised three children. Nora said that it was a good life.
Reminiscing on her early life during the war, Nora would observe: "In World War II 'morale' was a word we all heard and lived by."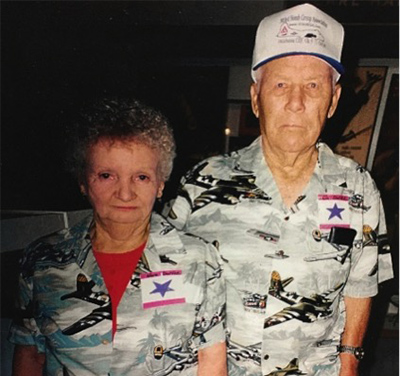 If you would like to support our efforts and mission, there are several ways you can help: pre-purchase tickets (we will honor all online ticket purchases, regardless of expiration date), donate, or become a member or corporate member. Thank you for supporting the Warhawk Air Museum.
Learn more about our Profiles in Courage Project.