Pay tribute to fallen heroes this Memorial Day Weekend with "Murph" at the Warhawk

By: Warhawk Air Museum
Posted On: May 16, 2019
For many, Memorial Day means camping, BBQ's and a long, three day weekend. But for the CrossFit community, it's all about honoring our fallen heroes with the "Murph" Hero workout of the day (WOD). To recognize and support this unique Memorial Day tradition, the museum is teaming up with Mission43 to host "Murph" at the Warhawk on Saturday, May 25th to honor those military service members who made the ultimate sacrifice.
Who was Murph?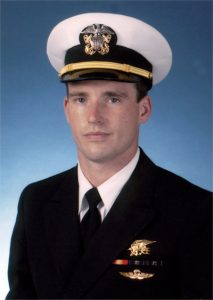 Lt. Michael P. "Murph" Murphy, from New York, was a Navy SEAL killed in action in Afghanistan on June 28, 2005 at the age of 29. Murphy was "the officer-in-charge of a four-man SEAL element in support of Operation Red Wings, tasked with finding a key anti-coalition militia commander near Asadabad, Afghanistan"1. The four man team also consisted of Sonar Technician – Surface 2nd Class Matthew G. Axelson (29, California), Gunner's Mate 2nd Class Danny Dietz (25, Colorado), and Hospital Corpsman 2nd Class Marcus Luttrell (29, Texas).2
While conducting a reconnaissance mission in the area, they were spotted by three civilian goat herders, who they detained but later released. This resulted in a fierce gun battle between Murphy's team and the Taliban on a steep mountain face. They found a semblance of shelter behind mountain rocks, however, Murphy realized that they would not be able to call for backup from this more protected position. Risking his life, he moved into the open. This heroic act made him the main target of the enemy, but, despite the increased fire and being shot in the back, he successfully made contact with the SOF Quick Reaction Force at Bagram Air Base and requested assistance. He provided his unit's location and the size of the enemy force and, severely wounded, returned to his men and continued to fight.
The fight continued for two hours and resulted in the deaths of three of the four members of Murphy's unit (including Murphy), 8 SEALs and 8 Army Night Stalkers who had been sent to extract the four SEALs, and an estimated 35 Taliban.2 Luttrell–who, while severely wounded, was able to evade the Taliban for nearly a day and was eventually aided by local nationals–survived and was rescued.
"By his undaunted courage, intrepid fighting spirit and inspirational devotion to his men in the face of certain death, Murphy was able to relay the position of his unit, an act that ultimately led to the rescue of Luttrell and the recovery of the remains of the three who were killed in the battle."2
The legacy of Murphy's courage has been preserved in many ways including receiving the Medal of Honor in 2007, dedications of various memorials, the LT. Michael P. Murphy Memorial Scholarship Foundation (founded in 2007 by his parents and brother), and through the Memorial Day "Murph" Hero WOD.
What is a Hero WOD?
A workout of the day (WOD) is the workout that CrossFitters perform on any given day, whether determined on their own, from a gym, or taken from the official site CrossFit.com. A Hero WOD is a "tribute to a fallen first responder or member of the military who has died in the line of duty."3 Usually very difficult, these Hero WODs are included intermittently to provide an extra challenge and reminder of these fallen hero's sacrifice.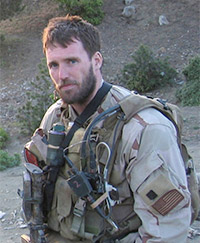 The Murph WOD is one of CrossFit's toughest WODs and consists of:
1 mile run
100 pull-ups
200 push-ups
300 bodyweight squats
1 mile run
This should all be done while wearing a 20lb weight vest, though that can be left off if needed.
What could be more patriotic than "Murph" at the Warhawk?
Join us on Saturday, the 25th of May for this very special event in conjunction with Mission43. The event will run from 9am–1pm at the Warhawk Air Museum. Admission is $5 and includes all-day admission to the museum. There will be music, food, demos and more on site! First heat begins at 9am. Register at the door.
Participate or come cheer on the athletes and take part in this community event as we pay tribute to our heroes–those military service members who made the ultimate sacrifice.
Let us know if you will be attending: