The USO: a GI's "home away from home"

By: Warhawk Air Museum
Posted On: September 16, 2019
The United Service Organizations Inc. (USO) is an American not-for-profit organization founded in World War II to be a GI's "home away from home". It has supported America's military and their families for over seven decades through its tradition of entertaining the troops, providing social facilities, and keeping military members "connected to family, home and country"1 "until everyone comes home".
In 1941, President Franklin D. Roosevelt sought to unite several service associations to lift the morale of and provide recreation opportunities for military personnel. The initiative brought together the Salvation Army, Young Men's Christian Association (YMCA), Young Women's Christian Association (YWCA), National Catholic Community Services, National Travelers Aid Association and the National Jewish Welfare Board under Mary Shotwell Ingraham, then-President of the National Board of the YWCA. Ingraham became the first woman to be awarded the Medal for Merit by President Harry S. Truman in 1946.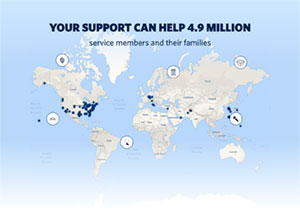 Though the USO is congressionally chartered and has worked in conjunction with the Department of War and the Department of Defense, it is not a government agency. It relies heavily on contributions and funds, goods, and services from corporate and individual donors. The USO now has over 200 locations in 14 different countries and 27 states, and has served an estimated 35 million Americans over its history2.
The USO provides a variety of services including stateside clubs, traveler's aid, Camp Shows, and overseas services (clubs in territories assigned by the War Department; Camp Shows anywhere as requested).
USO activities throughout the wars
WWII
Once the USO was formed on February 4, 1941, centers were set up quickly in whatever locations were available–however unlikely–including churches, cabins, castles, barns, railroad sleeping cars, museums and yachts3. Clubs were set up in more than 3,000 communities in the Western Hemisphere and provided services according to each community's clientele. Some centers provided more lively activities such as dances, sporting tournaments and equipment, and organized outings, others provided daycare and activities for wives and children. Other services often included coffee and doughnuts, a canteen, art materials, various social activities, movie showings, materials for letter writing, and religious counseling, all of which were to be free unless some charge was necessary in order to be provided at all (cigarettes)4.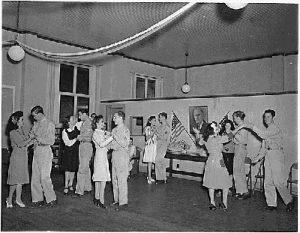 Each club had a Director and Assistant Director (the only paid positions), who were trained by the National USO and ran the overall day-to-day operations. Senior Hostesses (volunteer position) served as committee chairs, chaperones, receptionists, problem solvers, "de facto counselors" and more. They were usually married, 35 years or older with valid community references and were generally expected to act "motherly". Junior Hostesses were young women aged 18–30 who volunteered a minimum of two hours per week. They had very strict rules on dress and deportment and were available at the clubs to serve food, dance, play cards, and talk to the troops.4
Korea and Vietnam
In 1950, the USO was reinstated when the US entered the Korean war after having been disbanded for lack of funds in 1947. By the end of the Korean War, the USO had served 3.5 million members in the armed forces.
The USO was in Vietnam before the first troops arrived, having opened a club in Saigon in April 19632. There were 23 centers set up in Vietnam, which serviced a million members a month. At this time, the USO also began centers at major U.S. airports to provide a place for servicemen to lounge and sleep between flights.
Afghanistan and Iraq
To support troops involved in Operations Enduring Freedom and Iraqi Freedom, USO centers were opened in Afghanistan, Iraq, Kuwait and Qatar. Services were updated to include free internet and e-mail access, free phone calls home, and "USO in a Box"—a program which delivered materials ranging from DVD players and videos, to musical instruments to remote operating bases. The USO have also begun providing services for the annual "Tribute to the Troops" WWE special.
The Hollywood Canteen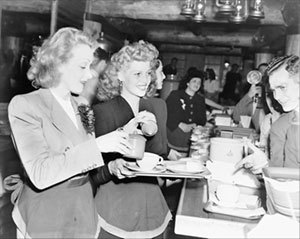 One of the more famous USO clubs opened on October 3, 1942 in Los Angeles, California. The Hollywood Canteen was founded by the efforts of Bette Davis, John Garfield and Jules Stein (President of the Music Corporation of America). This club was staffed and operated completely by members of the entertainment industry and funded by various entertainment guilds and unions. GIs who came here were escorted by Marlene Dietrich, served food by Rita Hayworth and danced with Rosemary Lane (of the Lane Sisters).5
Some of the biggest names of 1940's Hollywood volunteered to perform, dance, wait tables, cook, and clean up in an effort to entertain troops and boost morale. The building no longer exists but the efforts of the "over three thousand stars, players, directors, producers, grips, dancers, musicians, singers, writers, technicians, wardrobe attendants, hair stylists, agents, stand-ins, publicists, secretaries, and allied craftsmen of radio and screen" are memorialized in the 1944 Warner Bros. film Hollywood Canteen. By the time the club closed in 1945, it had served over three million servicemen.5
Camp Shows
One of the most popular services of the USO were the Camp Shows, which are their own separate entity called USO Camp Shows, Inc. Their purpose? Provide troops with some fun and entertainment and allow the men to forget they were soldiers for a few hours. The division was funded by the USO but had a separate board of directors of individuals from the entertainment industry. Abe Lastfogel ran Camp Shows, Inc. and worked with the entertainment unions to waive pay and work condition requirements in order to bring live shows to soldiers. Average performers were paid $100 a week, while top talent were only paid $10 a day since their relative wealth allowed them to donate more of their time and talent2. Camp Shows, Inc. began in October 1941 and overseas shows began in the Caribbean that November and in Europe in 1942.
There were four circuits within Camp Shows, Inc.: Victory, Blue, Hospital and Foxhole. The Victory Circuit performed stateside and featured big shows with famous celebrities or entire Broadway musicals; the Blue Circuit was also stateside and was the Vaudeville circuit with comedians; the Hospital Circuit brought a range of performers both stateside and overseas and performed for wounded troops in military hospital wards; finally, the Foxhole Circuit brought performers overseas. Entertainers part of the Foxhole Circuit would perform on the Front lines and lived very similarly to the troops, even wearing uniforms while not performing. 37 USO entertainers were killed during WWII including theater star Tamara Dreisen and band leader Glenn Miller.4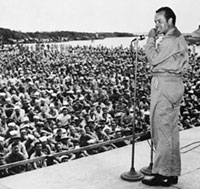 Many stars have spent time performing and visiting with troops during every major war. During WWII, 400,000 performances were put on by the USO and featured entertainers such as: The Andrews Sisters, Fred Astaire, Lucille Ball, Count Basie, Ingrid Bergman, Humphrey Bogart, Bing Crosby, Marlene Dietrich, Bob Hope, Judy Garland, the Marx Brothers, Glenn Miller, Ginger Rogers, Dinah Shore, Frank Sinatra, and many, many more. During the Korean War, stars including Bob Hope, Errol Flynn, Debbie Reynolds, Marilyn Monroe, and Mickey Rooney performed. In Vietnam, there were over 5,000 performances by stars such as John Wayne, Ann-Margret, Sammy Davis Jr., Rosey Grier, Nancy Sinatra and, again, Bob Hope.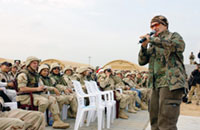 The tradition has continued and entertainers and actors including Bruce Willis, Stephen Colbert, Robin Williams, Zac Brown, Carrie Underwood, and Dane Cook continue to tour military bases.2 Current USO spotlighted stars include, among others, Adam Devine, Iliza Shlesinger, Jon Stewart, Scarlett Johansson, The Chainsmokers, the NBA, and Trace Adkins.6
One of the most prolific USO entertainers was comedian Bob Hope (died July 27, 2003), who spent 48 Christmases overseas with American troops and headlined 57 shows beginning in 1941 and ending in 1991. Hope was honored by Congress in 1997, declaring him the "first and only honorary veteran of the U.S. armed forces".2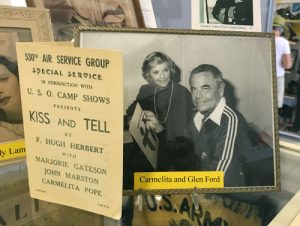 During WWII, in addition to the "big name" performances, units ranging from one to 50 people were formed and sent where requested. They would sing, perform comedy, dance and even put on plays. Carmelita Pope, an early volunteer at the Warhawk Air Museum, toured with the USO for a year during WWII, performing the play "Kiss and Tell" for troops in the Mediterranean. You can view her display at the Warhawk Air Museum of the USO memorabilia and stories she kindly donated.
The USO continues to provide military personnel a "home away from home" all over the world. Find out how to donate on their website.