Profiles in Courage: George H. Emerson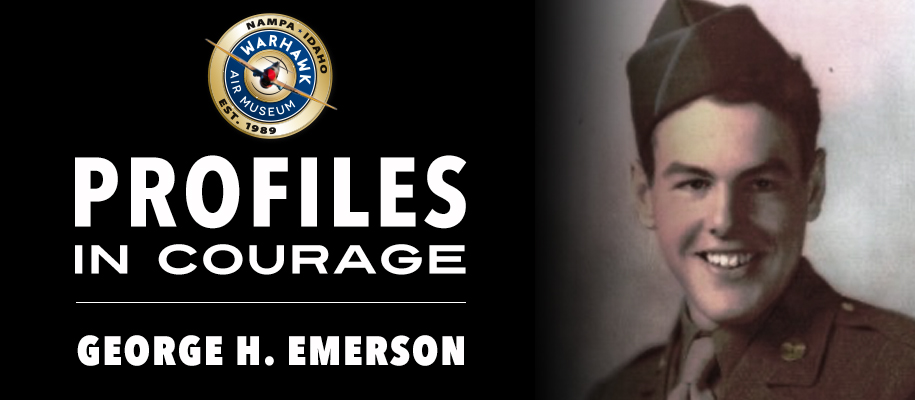 By: Warhawk Air Museum
Posted On: October 5, 2023
George H. Emerson was born on April 1, 1925 in Meridian, Idaho. On his birthday in 1943, he registered for the draft but was approved for an essential occupation draft deferment program for six months. After the six months were up, however, George decided he wanted to join his friends in the war. He wanted to fight. So, in February 1944, he rode his Harley Davidson to Boise to enlist in the Army Air Force. Three days later, he was on his way to Fort Douglas, Utah.
When training at Avon Park, Florida in late 1944, George joined his flight crew. Later in Savannah, Georgia, 2LT Robert Barrat and the crew picked up a new B-17 to deliver to Scotland and proceeded to Molesworth Army Air Force Base in Cambridgeshire, England. They were to be part of the Eighth Air Force, 303rd Bomb Group, 427th Barrat Crew. The 303rd Bomb Group is also known as Hell's Angels (named after the B-17 of the Eighth Air Force that was the first to complete 25 missions). It was December 1944 and it was time to start putting their training to the ultimate test.
Combat Mission 313: February 9, 1945
After breakfast on February 9, 1945, Barrat Crew had their briefing and then headed to their B-17, #43-39149 (this one did not have a name). They loaded ten 500-pound bombs and took off. Oxygen masks came on at 10,000 feet as they climbed to 25,000 feet. Shortly before arriving at their target, the anti-aircraft guns below took their aim and flak covered the sky.
Sergeant Reiss (top turret gunner) started shouting, but George couldn't understand what he was saying. Another B-17 (#42-31060, 1LT Nemer's Crew) was positioned directly behind George's plane and their right wing and the propeller of the right outer engine (#4) hit the tail-end of George's plane. The waist window (rear part of the fuselage) was torn off. George's plane went down, out of control, in two pieces. Once it hit the ground, the B-17 exploded. However, Sgt. George Emerson had been able to parachute out of the tail as he had cultivated the habit of wearing his parachute. He was knocked unconscious but woke up again during the fall. He landed hard on the ground, face down…on enemy soil.
George Emerson Jr: Prisoner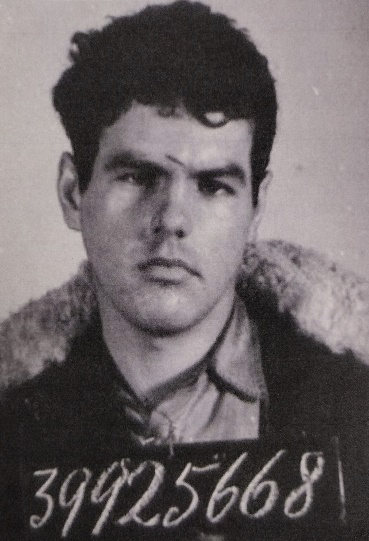 George was captured shortly after landing, taken to a building and pushed into a cell. The next morning, he was escorted to an office. On the policeman's desk were oxygen tanks, dog tags, pieces of metal, and part of a parachute. The policeman asked if George recognized the items and if they were from his aircraft. They were. The dog tags belonged to his crew—his friends. George realized that he was possibly the only survivor of the crash. He was taken to a prison camp near the town of Wetzlar, Germany where each day dogs were sent inside the barracks to wake up the prisoners. About three weeks later, they boarded a train to Nuremberg—75 prisoners and two guards packed into each box car. They arrived at Stalag 13 D in Nuremberg. George estimated that there were about 10,000 Allied POWs. They slept on the floor and were only given a blanket for warmth. Each day they were given soup and one loaf of black bread to be split amongst nine men. Occasionally, Red Cross parcels made their way to the camp and the prisoners would use the cigarettes as currency to get more food from the German guards.
On April 4, 1945, George and the other prisoners set out on foot for their next prison. They marched and slept in churches, barns, or outdoors. They were made to march during the evening once and it was so dark that the prisoners put their hands on the shoulders of the person in front of them. A little after daylight, the prisoners saw their new prison in Moosburg (Stalag 7 A). It was April 20, 1945. They had marched about 120 miles and this new camp held over 76,000 POWs. 6,000 of which, George estimated, to be Americans.
April 29, 1945: Liberation
On April 29, 1945 the prisoners of Moosburg were liberated. George tore a piece of paper* from a Red Cross parcel and wrote (George's note is on display at the Warhawk):
George Emerson April 29, 1945
I can honestly say this is the happiest day I ever remember of. The artillery sounded close all night of April 28. The real fireworks for Moosburg, started about 9:00 A.M. this Sunday morning and lasted about three hours. A tank and two jeeps just came thru camp. Everyone is wild, P-51's, and little Elmer have been buzzing this camp all day. What a beautiful sight.
What Happened to George's Crew?
In 1991, a German eyewitness gave their account of the crash of the B-17 George was on. The plane was on its way towards the center of the village of Eisenberg (Thüringen, Germany). If it had hit the center of the village, hundreds of people would have died from the crash and from the intact bombs. However, just before the B-17 would have crashed into the center of the village, pilots Barrat and Harvey leveled the B-17 and dropped the bombs on a field outside of the village. Sadly, one house was hit and ten people were killed. As the bomber was crashing down, pilots Barrat and Harvey did their best to save the German citizens on the ground below them. They crashed and exploded in a wooded area near the town. All of the other members of Barrat crew perished in the crash. A memorial dedicated to them stands at the site.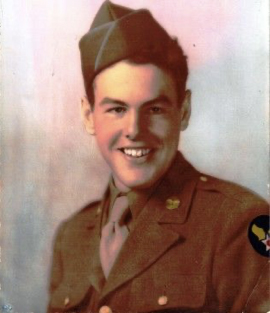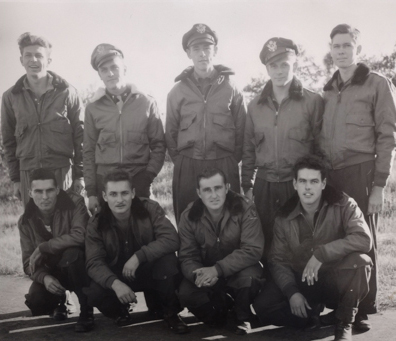 What happened to the B-17 that crashed into George's crew? B-17 #42-31060 dropped down about 10,000 feet below the formation, but still under control. It stayed with the formation for about 45 minutes then was lost and crashed east of Jaraczewo, Poland. 1LT Harry H. Schulz (navigator), Sgt. Howard H. Ganson (bombardier), and Sgt. Paul L. Kerr (waist gunner) were found by Russian troops and taken back to Molesworth on March 6, 1945. S/Sgt. Floyd S. Bohrer (flight engineer and top turret gunner) was captured and became a POW. Out of the nine-man crew, five of them died from the crash. George reached out to the three remaining survivors and one, 1LT Harry Schulz, responded. There is a memorial in Poland for the Nemer crew members who died on that day too. In 2005, George and his wife visited both memorials in Germany and Poland.
51 years later, George Emerson, Jr. finally received a Purple Heart. On December 22, 2021, George passed away. He is buried at the Morris Hill Cemetery in Boise, Idaho. To read more about George Emerson's story, visit his display cabinet at the Warhawk Air Museum.