Upcoming Events

Warbird Roundup 2022
Recurring event
see all
August 26 @ 6:00 am – 8:00 am MDT
Guest speakers!
In addition to the exciting sights and sounds the Warbird Roundup offers, guests will be treated to two amazing guest speakers this year. Back by popular demand is the last living WWII Triple Ace, Col. C.E. "Bud" Anderson. Later in the day, Christina Olds, daughter of Triple Ace fighter pilot Robin Olds, will take to the stage.
Food & fun for everyone!
Event Schedule
Details:
Join us for our 20th annual Warbird Roundup August 27 and 28! Gates open at 8:30 a.m. Flying is 9 a.m. – 2 p.m. Schedule and warbirds are subject to change and weather permitting.
The Warbird Roundup is Idaho's largest 2-day gathering of historic war planes. Watch the planes fly, see them up close and meet the pilots. Enjoy free parking, food vendors, the USAF Operation Shadow Strike experience, and activities for kids!
This year we are honoring the 80th anniversary of the Doolittle Raid.
Tickets
$30.00 – Adults 15+
$28.00 – Seniors 65+ /Military
Kids under 14 are FREE!
Proceeds to benefit our Post 9-11 & Global War on Terror expansion.
Parking
We have a new parking area available at Mission Aviation Fellowship!
112 N. Pilatus Lane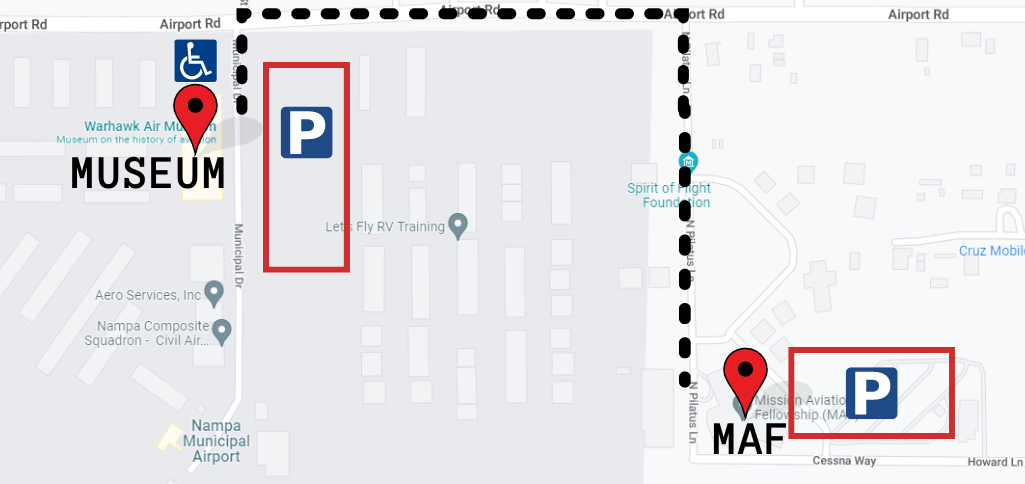 Parking directly in front of the museum is reserved for handicap parking. There will be general parking directly across from the museum on the other side of Municipal Drive, and at MAF.
Special guest speaker
Our special guest speaker will be Jonna Doolittle Hoppes—USAF General Jimmy Doolittle's granddaughter—who will be speaking about her grandfather.
Warbirds
North American B-25J Mitchell
P-38 Lightning Honey Bunny
Vought F4U-1A Corsair
Grumman F8F-2 Bearcat
TF-51D Mustang Diamondback
P-47D Thunderbolt Dottie Mae
P-51H Mustang
P-40E Kittyhawk Sneak Attack
P-40N Warhawk Parrot Head
P-51C Mustang Boise Bee
and featuring a very special flyover by the U.S. Air Force F-35A Lightning II Demonstration Team!