Warbird Roundup 2019
August 24 @ 9:00 am - August 25 @ 4:00 pm
17th Annual Warbird Roundup Takes Flight!
Our 2019 Warbird Roundup will be held August 24–25 from 9am–4pm (Gates open at 8:30am). The Warbird Roundup is Idaho's largest 2-day gathering of historic war planes. Watch the planes fly, see them up close and meet the pilots. Enjoy food, drinks, vendors, kid's activities and special guest speakers!
Watch history fly!
Guests of the 2019 Warbird Roundup will have the opportunity to see the rarest and coolest WWII-era fighter planes in existence today – including the return of the immaculately restored P-47 Thunderbolt "Dottie Mae", a brilliant array of colorful P-40's including the Warhawk's own P-40N "Parrot Head" and P-40E "Sneak Attack," a roaring collection of P-51 Mustangs, the F7F Tigercat, B-25 Bomber, AT-6, N3N, Vietnam era L-19's and many others.
*Plane appearances subject to change.
Guest speakers!
In addition to the exciting sights and sounds the Warbird Roundup offers, guests will be treated to two amazing guest speakers this year. Back by popular demand is the last living WWII Triple Ace, Col. C.E. "Bud" Anderson. Later in the day, Christina Olds, daughter of Triple Ace fighter pilot Robin Olds, will take to the stage.
Colonel "Bud" Anderson
Colonel Clarence E. "Bud" Anderson is a retired officer in the United States Air Force and the last living "triple ace" from World War II. During the war he was the highest scoring ace in his P-51 Mustang squadron. Towards the end of Colonel Anderson's two combat tours in Europe in 1944 he was promoted to a major at age 22, an extremely young age even for a highly effective officer in wartime.
After the war, Colonel Anderson became a well-regarded fighter test pilot and a fighter squadron and wing commander. He served his wing commander tour in combat in the Vietnam War. He retired as a full colonel in 1972, after which he worked in flight test management for McDonnell Douglas. His 1990 autobiography, TO FLY & FIGHT – MEMOIRS OF A TRIPLE ACE was recently re-published with new photos and additional information. Copies will be available for purchase and autographs at the event. In 2008, Anderson was inducted into the National Aviation Hall of Fame.
Read more about Bud Anderson on our blog.
Christina Olds
Christina Olds is the daughter of Robin Olds, an American fighter pilot and general officer in the U.S. Air Force. He was a "triple ace", with a combined total of 16 victories in World War II and the Vietnam War. He retired in 1973 as a brigadier general. After her father's death, Christina spent years combing through her father's notes, diaries and unfinished memoir to complete a captivating, intimate memoir of the consummate fighter pilot.
FIGHTER PILOT – THE MEMOIRS OF LEGENDARY ACE ROBIN OLDS was published in 2010 and the book has since become a national best seller. Christina is a sought-after public speaker at venues around the world and is currently working on a screenplay for FIGHTER PILOT and a second book about her grandfather Maj. Gen. Robert Olds, an instrumental leader in the development of early air power and the U.S. Air Force.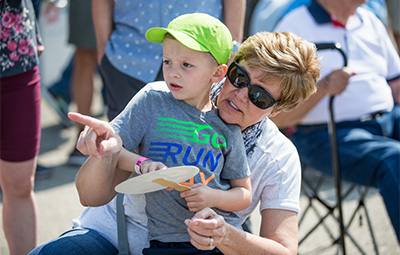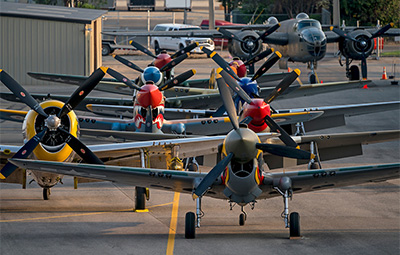 Photo by Jim Raeder
The 2019 Warhawk Wing Girls
Food & fun for everyone!
With over 40,000 square feet of displays, vintage automobiles and memorabilia, there's no shortage of fun things to see and do at the Warhawk Air Museum during the Warbird Roundup. Bring your appetite because our vendors will be serving up everything from cotton candy to corndogs, shaved ice, chicken wings and tasty BBQ.
A brand new Kid's Zone will offer the little one's a chance to color their very own masterpiece, craft a paper airplane or get their face painted.
Step back in time with the Warhawk Wing Girls. Meet these beautiful, vintage ladies. Get an autograph or take a picture with one next to a plane.
Tickets
This event is now over
Event Schedule
Saturday & Sunday
*Planes & schedule subject to change
10:00 a.m.
Flying begins
Opening ceremony, Missing Man Formation
12:00 p.m.
Guest speaker — Colonel "Bud" Anderson
2:30 p.m.
Guest speaker — Christina Olds
Ramp opens for photos
Note: P-47 Dottie Mae & B-25 fly Sunday only.