Upcoming Events

Warbird Roundup 2023 — Sunday
August 13 @ 9:00 am – 2:00 pm MDT

In addition to the exciting sights and sounds the Warbird Roundup offers, guests will be treated to two amazing guest speakers this year. Back by popular demand is the last living WWII Triple Ace, Col. C.E. "Bud" Anderson. Later in the day, Christina Olds, daughter of Triple Ace fighter pilot Robin Olds, will take to the stage.
Join us for our 21st annual Warbird Roundup August 12 and 13! Gates open at 8:30 a.m. Flying is 9 a.m. – 2 p.m. Schedule and warbirds are subject to change and weather permitting.
The Warbird Roundup is Idaho's largest 2-day gathering of historic war planes from across the country. Watch the planes fly, see them up close and meet the pilots. Our knowledgeable announcers and pilots educate the crowd about each of the warbirds including their history, interesting facts, and importance to our country.
There will be food trucks, a guest speaker, and visitors get full access to the museum and displays.
Sunday Tickets:
Tickets are no longer available online, but will be available at the gate.
Are you a member?
Active museum members get additional discounts on Warbird Roundup tickets based on their membership level. These tickets can be purchased in advance in our gift shop or at the gate on the day of the event. Member tickets are not available online.
Membership Level Discounts:
Individual Memberships: 30% discount on one ticket
Couples, Grandparents, and Family Membership: 30% discount on two tickets
Level I Lifetime: 30% discount on two tickets
Level II & III Lifetime: Two free tickets
---
Event Details:
Special guest speaker
Guest speaker Bob Cardin was the project manager for the recovery of the P-38 Lightning Glacier Girl that crash-landed in Greenland in July 1942 and was buried under 268 of ice. He also oversaw her 10-year restoration.
Warbirds
These warbirds will be flying in:





Plus, the Warhawk's own:
• P-40E Kittyhawk Sneak Attack
• P-40N Warhawk Parrot Head
• P-51C Mustang Boise Bee
---
Important Information
Gates open at 8:30 a.m.
No coolers or outside food and drink allowed.
No pets – Trained service/support animals only.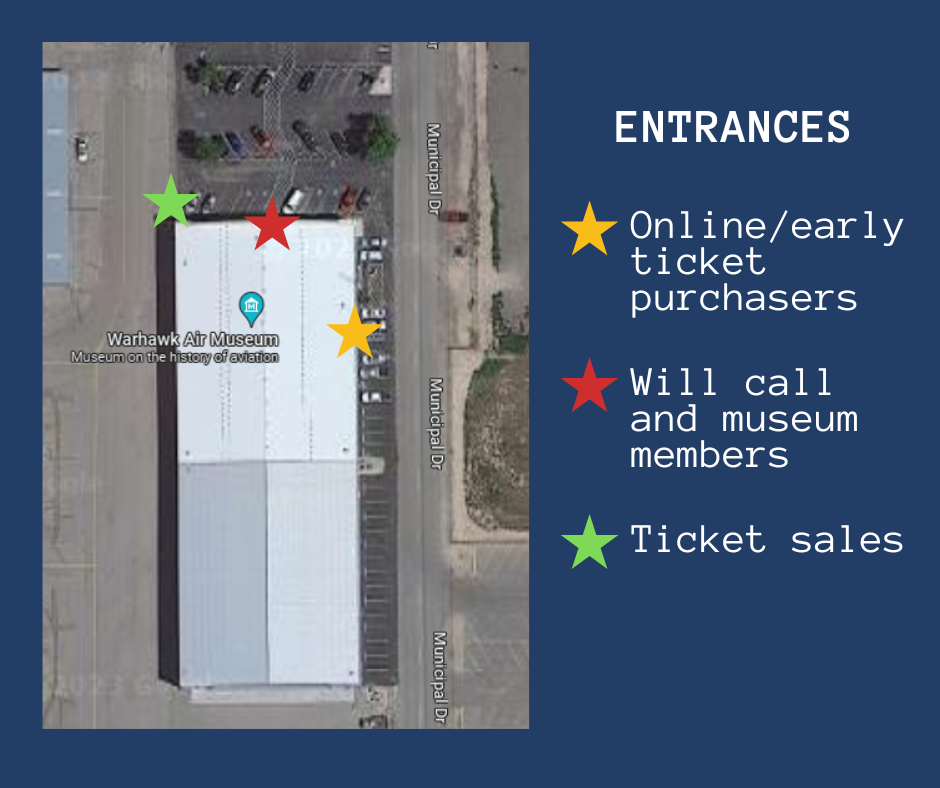 Museum Parking
The museum's parking lot is reserved for handicap parking only.
The dirt lot directly across from the museum is available on a first-come-first-served basis. This lot will fill up fast!
Additional Parking Options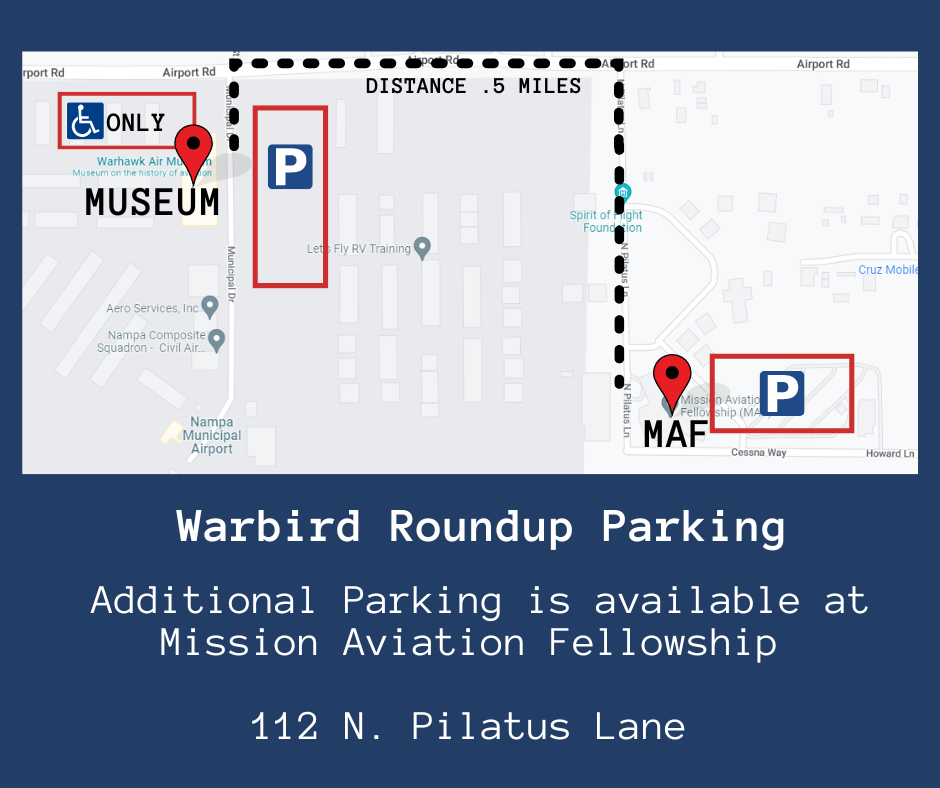 Additional parking is available at Mission Aviation Fellowship at 112 N. Pilatus Lane. It is about a half mile walk to the museum. Visitors must stay out of the fenced off airport – please do not cut through! Before parking, you are welcome to drop anyone off at the museum who might have trouble walking.
We will have extra parking and one shuttle running from Nampa Gateway Center's old movie theater at 1232 N. Gallaria Drive to the museum. The shuttle will run in a continuous loop starting at 8:00 a.m. through 4 p.m.
The shuttle will not stop at Mission Aviation Fellowship.
---
Thank you to our sponsors!