Warhawk captures stories of military romance with letters, photos and keepsakes.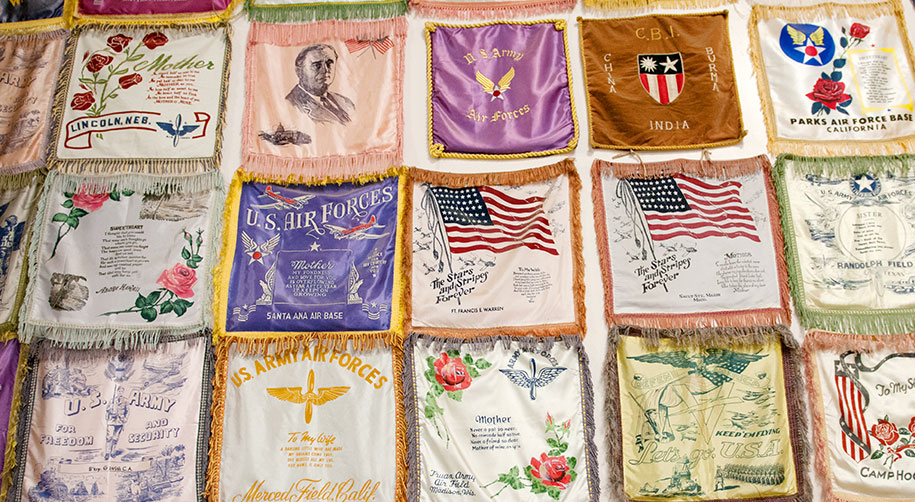 By: Warhawk Air Museum
Posted On: February 22, 2019
February is the month when love, especially the romantic kind, is celebrated with exchanges of valentines and symbolic gifts. At the Warhawk Air Museum, a special display is featured in February, highlighting the wartime effect on romance. These stories, told with photos, hand-written letters, telegrams, and keepsake items, strike an emotional chord of love, lasting bonds, and sometimes loss. The military romance stories displayed are each unique and include hastened engagements, great heartache and longing due to wartime separation, babies born while Dad is overseas, and lasting love against the many odds.
Much of the Military Romance display features stories of relationships during WWII, and it's worth the trip to the Museum to find yourself immersed in a unique time in our country's history, transported into the hearts and minds of our servicemen and women, and those who loved them most. You'll find more stories of love throughout the Museum's regular displays, with love of country, love of service, and the loving support of family.
Louis "Lou" Bauman created the Military Romance feature and has had a hand in many of the Museum's displays. If you are fortunate enough to run into him at the Warhawk, he can point out the display highlights, and the most interesting and relevant aspects of the items and the stories they tell. In fact, there's almost always a knowledgeable volunteer available who enjoys highlighting the compelling facts and stories behind the displays, often catering them to your interests.
Lou puts his heart into his display efforts, and he excels at this skill. In the process, he really gets to know the service men and women and their families, and he manages to log a seemingly unending array of stories behind all the treasures and artifacts at the Museum. And this particular display on military romance has an especially large dose of Lou's heart. The power of love is so pronounced, bringing a hanky along is not a bad idea.
One couple's 70-year love story, fueled by military romance and wartime love letters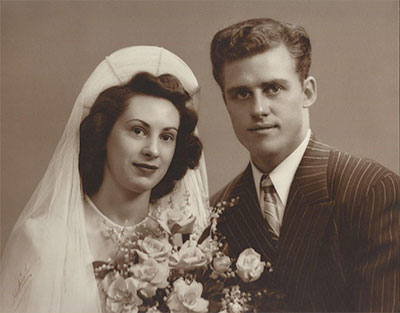 Ora "Bull" Durham and Helen (Morfitt) Durham met in 1942, their senior year at Boise High School, while roller-skating. Like many young men at this time, Bull was called to serve his country during WWII, enlisting in the Navy after high school. A year later, Bull was assigned to the aircraft carrier USS Enterprise, the most decorated U.S. ship of World War II. Bull relays that his ship was constantly targeted in the South Pacific, taking multiple bomb hits. Bull was away for nearly two and a half years, and during that time, he counted on the steady exchange of letters between him and Helen. Helen counted on them, too.
In a Valentine's Day, 2013 news story on a local TV station, Helen recalled their love letters. "We wrote to each other every day," Helen said. Bull, who passed away in 2017, added: "I used to get letters, a whole bunch of them at once, and then for 20 days or so wouldn't get anything because at sea you don't get mail every day. It was special."
You can find those letters as part of the Warhawk's Military Romance display. Handwritten letters—showcasing unique and beautiful handwriting, truly a dying art form—would travel many miles away, and were a welcome sight and lifeline to the recipients.
In November of 1945, after being away for 29 months, and decorated with multiple medals, Bull came back home. "I was at the train depot when he arrived," Helen said. "Of course I was delighted she was there," Bull said. "I got to go to Moscow and have Thanksgiving dinner with my sweetheart."
Bull proposed and they were married the following year. Both attended the University of Idaho, spent many years in the store business in Canyon County, and were very active in their community. He and Helen enjoyed traveling, including USS Enterprise reunions. The couple had two children, followed by grandchildren and great-grandchildren. A love story, fueled by letters traveling to and from a U.S. Navy aircraft carrier, lasting over 70 years.
WWII rationing leads to a wedding dress sewn from a silk parachute.
Silk is an extraordinary luxury fabric, woven from the silk of moth caterpillars, and was first developed in ancient China. Due to silk's natural fire resistance, strength, and light weight, it was considered optimum for parachutes in WWII. Silk became "military issue" and prices increased dramatically. Even when the war was over, rationing was still in effect, which made sourcing fabric extremely difficult and expensive. Oftentimes, the groom's parachute was the only affordable option, as long as it wasn't too damaged.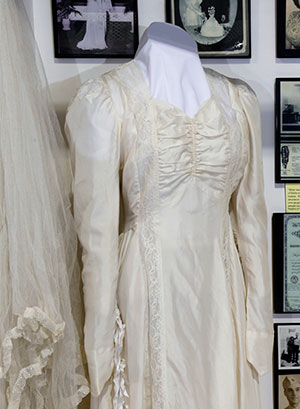 After the war, there are reports of women turning silk parachutes into wedding dresses during this period of continued hardship and rationing. This required a high level of seamstress skills and dedication to disassemble the canopy. The results were often stunning.
At the Warhawk, you will find such an example in the wedding dress of Nancy E. Rutan. The beautiful, intricately sewn and embellished gown is on display and part of the Military Romances display.
On September 9, 1947 in Nampa, Idaho, Nancy E. Buehler became Nancy E. Rutan, marrying Leonard L. Rutan. Nancy met Leonard after he was discharged from the Army, having served in WWII. At the end of WWII in the Pacific, Leonard was sent to Honshu in northern Japan. He went to the Amori Air Base, which was almost completely destroyed, however, they found a warehouse on the base that was full of Japanese war supplies. The Army soldiers were allowed to take anything they wanted, as long as they could get the items home. In Leonard's interview for the Veteran's History Project, he recalls finding the precious silk parachute: "I was one of the fortunate ones that got in and got ahold of a Japanese parachute, brand new, had never been used. I mailed it home to my parents, because I knew they wouldn't let me bring it home in my duffel bag, so I mailed it home."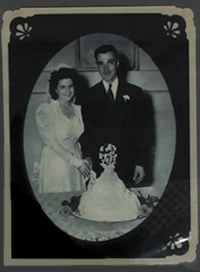 When Leonard returned to the U.S., and Nampa, Idaho, he met Nancy Buehler. After dating for a few months, he asked her to marry him. They did not have much money for the wedding, and were visiting with Leonard's neighbor, Martha Miller, who was a seamstress for the C.C. Anderson Store in Boise. Leonard relates "one day she said to me Leonard, how 'bout let me make a dress out of that Japanese parachute that's all silk, pure silk. Well I said let me ask Nancy and Nancy was completely delighted." At the wedding day launch of their married life, the luxurious silk likely made for a very soft landing.
You can view the gorgeous dress and other memorabilia surrounding their wedding day at the Warhawk. The Rutans raised their family in the Treasure Valley. Nancy, previous to her marriage, was the first female in Idaho to get her radio telephone operator's license. She worked for KFXD as a radio announcer and program director. She had a program that aired daily, targeted for women.
The artifacts and treasured memorabilia found at the Museum are surrounded by such stories, stories woven from the fabric of peoples' lives. In this case, the fabric is silk.
Love letters address the emotions of wartime couples.

"My darling Bud," begins a letter from Irene Estes Tolmie, to her husband, Donald Warren Tolmie. She continues: "Hello sweetheart, mind if I have a little visit with you this morning?" Donald goes by "Warren" or "Bud", and he married Irene before finishing the last of flight school training and heading off to active duty in WWII. Irene's letters fill Bud in on their young daughter, his parents, and the people in town asking about him. Their letters are their sole communication across the many miles between them.
Flying a mission near Parma, Italy, his plane was shot down and he was captured by the enemy. Warren was held as a P.O.W. in Stalag Luft 2, a German prison camp for several months, then Luft 3, Luft 7, and Luft 11 where he was liberated 11 months later in 1945.
At the Warhawk display, you will find a binder with the letters between Bud and Irene, including his time as a P.O.W. This loving exchange reveals the pain and uncertainty of their situation, with plenty to imagine as you read between the lines of their words to one another. Theirs is a powerful love story, and a real gift to Museum visitors, offering a glimpse into the life of a P.O.W. and his cherished loved ones back home.
After WWII, Bud farmed and was an active leader in his community. He and Irene were married for 67 years and were blessed with three children, plus grandchildren and great-grandchildren. Irene dedicated her life to her family and to education, including a 32-year teaching and librarian career.
The Museum is full of these "love" letters. Letters of love to mothers and fathers, to siblings, and, of course, to sweethearts. Any given display case is full of these heartfelt missives and they have been made available to read by Lou through the Museum's displays.
Pillowcases tell the stories of sweet dreams and military romance.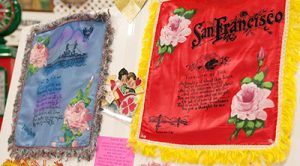 Beautifully adorned "Sweetheart" or "Mother Pillows" were love letters you could rest your head upon. The Museum has a very large collection of these colorful pillows, which display a variety of messages and artwork. Men in the military sent these home to those they loved and many of these pillow covers have poems and sentiments honoring a mother, sister, aunt, friend, or a sweetheart.
During WWI, silk and other natural fibers were used. Rayon, invented in 1924, was later used for the pillow covers. By the end of WWII, the military covers were no longer being made. The crafting of these covers required quilting and embroidery skills.
These tokens of sentiments offer significant historical and cultural insight. It is believed these pillows originated as far back as the War of 1812.
Similar to the pillows are handkerchief or hankies, which were adorned in a similar manner to the pillows, but could be carried in a chest or pant pocket. Like the pillows, you will find a great variety of styles and designs of these hankies at the Warhawk.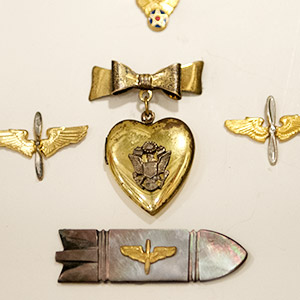 "Sweetheart Jewelry" was another means of expression of love. These important mementos kept soldiers connected to their loved ones at home. Lockets and pins are among the jewelry treasures you will find at the Museum. These beauties could hold a small photo of one who was held dear.
Every piece comes with a story to tell. "Keepsake items remind us that wars are fought by human beings. Jewelry and collectibles are proof that war extends beyond the battlefield and help us realize just how much the lives of large numbers of civilians were significantly altered as they worked together for the survival of our free world," Nick Snider wrote in his book "Sweetheart Jewelry and Collectibles".
Sweetheart jewelry was typically machine made and sold to servicemen abroad, but many pieces were also handcrafted. The lack of materials available for jewelry manufacturing led artisans to get creative, too, using inexpensive wire, natural materials like mother of pearl, and coins. Some pieces are referred to as "trench art," since they were literally made in the trenches overseas.
Come experience these stories of love, longing, loss and reunion for yourself.
Visit soon to see the Military Romance feature display, available for the remainder of February. However, you can witness these touching personal stories any time of year throughout our displays.
Admission tickets are available online for a 10% discount. The Museum is open Tuesday–Saturday 10-5 and Sunday 11-4.