Grumman F9F Panther Restoration
Donate Now
Help us honor and preserve America's Naval aviation history as we restore back to glory a Grumman F9F Panther—the Blue Angel's first jet. This is a static/non-flying restoration project and our campaign target is $80,000.
Contact us directly at 208-465-6446 or admin@warhawkairmuseum.org to make a donation in honor of a loved one.
The Warhawk Air Museum is a 501(c)(3) organization that represents the American experience of World War I, World War II, and the Cold War Era including the Korean War and Vietnam War. Our tax ID number is #94-3092941. No goods or services will be provided upon donation of funds.
Enter a Custom Donation or Choose a Listed Amount:
All donations will go towards the Grumman F9F Panther restoration – unless you instruct otherwise.
We are grateful for your tax-deductible donation via the Paypal donate button provided. Paypal accepts American Express, Discover, VISA or Mastercard. Please note that your donation may also qualify for the Idaho Education Tax Credit. We recommend you consult your tax advisor/professional.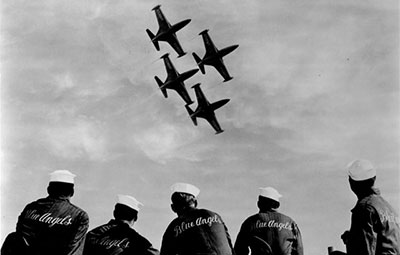 Copyright: Wikimedia Commons
The Grumman F9F Panther in 1951 Blue Angels Diamond formation.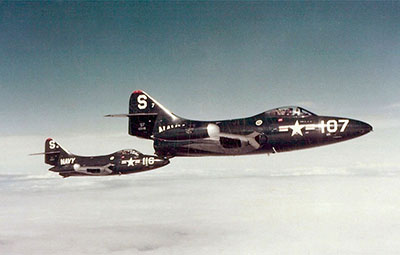 Copyright: Wikimedia Commons
Panther jets from VF-51 "Screaming Eagles" during a sortie over Korea, 1951.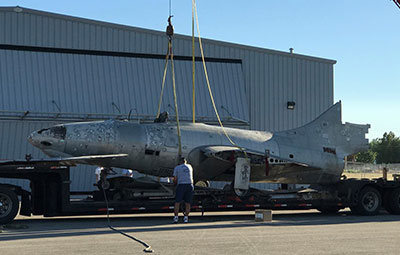 The Grumman F9F Panther arriving at Warhawk Air Museum for restoration and display.
About the Grumman F9F Panther
The F9F-2 Panther was Grumman Manufacturing's first jet fighter, first used in 1949 by the Navy's Fighter Squadron (VF) 51. It first saw combat on July 3, 1950 flying strikes from the USS Valley Forge. During the Korean War, it was used in strikes by both Navy and Marine squadrons and flew 78,000 sorties. A total of 1,382 F9Fs were built before evolving into the Grumman F-9 Cougar.
The F9F was notably flown by future astronauts Neil Armstrong and John Glenn and by Boston Red Sox all-star Ted Williams. They were withdrawn from front-line service in 1956, and from Reserve service in 1958.
The Panther was the first jet aircraft used by the Navy's Blue Angels from 1950 to 1954.
Grumman F9F Panther Specifications
Built:
Original construction 1946, Grumman Aircraft Engineering Corp, USA
Crew: Pilot
Engine:
Pratt & Whitney J48-P-6 turbojet engine
5,000lbf with water injection
Armament:
4 x 20mm M3 cannons
6 x 5″ air-to-surface HE rockets underwing
2,000lb of bombs
Length: 37'5″
Height: 11'4″
Wingspan: 38′
Empty Weight: 9,303 lbs
Max Weight: 19,494 lbs
Range: 1,353 miles
Service Ceiling: 44,600 ft
Max Speed: 575 mph Read more about the project in our Summer 2017 Flight Lines Newsletter.
Find other ways to Get Involved with the Warhawk Air Museum or view the rest of our Aviation Collection.