Kaydet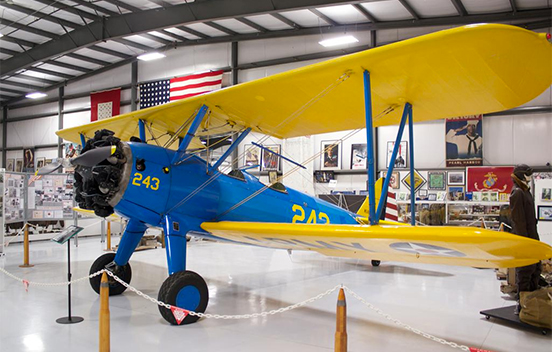 Stearman Kaydet Trainer
Past Visitor
The Stearman Kaydet, a two-seater biplane introduced by Stearman Aircraft Division of Boeing in Wichita, Kansas in 1934, became an unexpected success during World War II. Despite its almost obsolete design, its simple, rugged construction made it ideal as a trainer for novice pilots for the U.S. Army Air Corps and U.S. Navy.
The Kaydets had fabric-covered wooden wings, single-leg landing gear and an over-built welded-steel fuselage. Only radial engines were used. Between 1936 and 1944, Boeing built 8,584 Kaydets, in all versions, plus the equivalent of 2,000 more in spares.
Kaydets were widely used airplanes. In addition to sales to the Navy and the Army Air Corps, the trainers were sold to Canada, China, the Philippines, Venezuela, Argentina, and Brazil for both military and civilian uses. Many were still in service in the early 1990s. Their slow, low-level flying capabilities made them particularly suitable for crop dusting and spraying.
Stearman Kaydet Trainer Specifications
Built:
Original construction in 1934, Wichita, KS
Engine:
Continental R-670-5 piston radial engine
220 HP
Crew: 2 (instructor and student)
Length: 24'3″
Wingspan: 32'2″
Gross Weight: 2,717 lbs
Range: 505 miles
Service Ceiling: 11,200 ft
Max Speed: 124 mph
Max Cruise: 106 mph