"Hell-Er-Bust"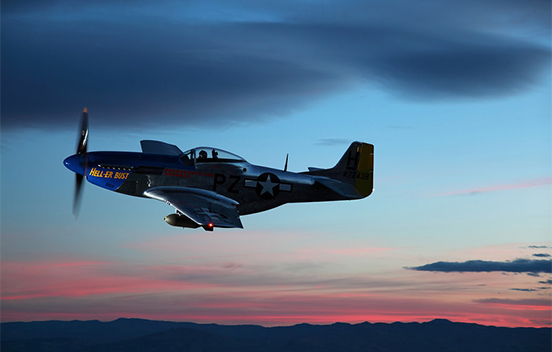 North American P-51D Mustang
Past Visitor
The P-51D Mustang incorporated several improvements over earlier designs and became the most numerous variant with nearly 8,000 being built. The most obvious change was a new "bubble-top" canopy that greatly improved the pilot's vision. The P-51D also received the new K-14 gunsight, an increase from four to six .50-cal machine guns, and a simplified ammunition feed system that considerably reduced gun jams.
The P-51D Mustang arrived in quantity in Europe in the spring of 1944, becoming the USAAF's primary long range escort fighter. The versatile Mustang also served as a fighter-bomber and reconnaissance aircraft. Few Luftwaffe aircraft could match the P-51D, and by the end of the war Mustangs had destroyed 4,950 enemy aircraft in the air, more than any other USAAF fighter in Europe.
P-51D Mustangs arrived in the Pacific and CBI theaters by the end of 1944. In the spring of 1945, Iwo Jima-based P-51Ds started flying long-range B-29 escort and low-level fighter-bomber missions against ground targets in Japan.
P-51D Mustang Specifications
Built:
Original construction in 1943, Dallas, TX
Markings:
Painted in the markings of WWII Fighter Ace Capt. Edwin L. Heller. "Hell-Er-Bust" and Capt. Heller flew in the 486th Fighter Squadron of the 352nd Fighter Group
Engine:
Rolls-Royce "Merlin" V-1650 724-1C Transport series
Liquid cooled, fuel-injected V-12 inline
1,800 HP @ 3,000rpm
Propeller:
Hamilton Standard, 11'2″–4 blade (hydraulic)
Armament:
6x .50 caliber wing-mounted machine guns
2x 500 lb bombs or 10x T64 H.V.A.R. rockets
Length: 32′
Height: 13'8″
Wingspan: 37′
Empty Weight: 6,985 lbs
Max Weight: 12,100 lbs
Range: 1,900 miles with drop tanks
1,000 miles on internal tanks only
Service Ceiling: 41,800 ft
Max Speed: 439 mph @ 29,000 ft