F9F Panther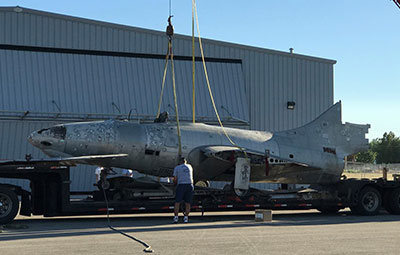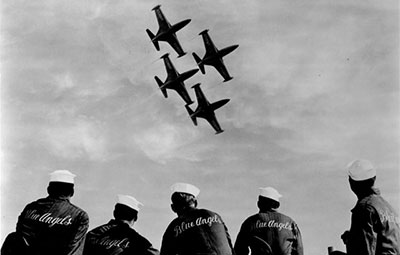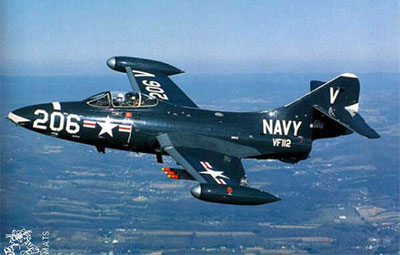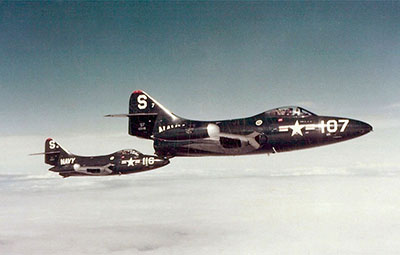 Grumman F9F Panther
The F9F-2 Panther was Grumman Manufacturing's first jet fighter, first used in 1949 by the Navy's Fighter Squadron (VF) 51. It first saw combat on July 3, 1950 flying strikes from the USS Valley Forge. During the Korean War, it was used in strikes by both Navy and Marine squadrons and flew 78,000 sorties. A total of 1,382 F9Fs were built before evolving into the Grumman F-9 Cougar.
The F9F was notably flown by future astronauts Neil Armstrong and John Glenn and by Boston Red Sox all-star Ted Williams. They were withdrawn from front-line service in 1956, and from Reserve service in 1958.
The Panther was the first jet aircraft used by the Navy's Blue Angels from 1950 to 1954.
Grumman F9F Panther Specifications
Built:
Original construction 1946, Grumman Aircraft Engineering Corp, USA
Engine:
Pratt & Whitney J48-P-6 turbojet engine
5,000lbf with water injection
Armament:
4 x 20mm M3 cannons
6 x 5″ air-to-surface HE rockets underwing
2,000lb of bombs
Length: 37'5″
Height: 11'4″
Wingspan: 38′
Empty Weight: 9,303 lbs
Max Weight: 19,494 lbs
Range: 1,353 miles
Service Ceiling: 44,600 ft
Max Speed: 575 mph