Avenger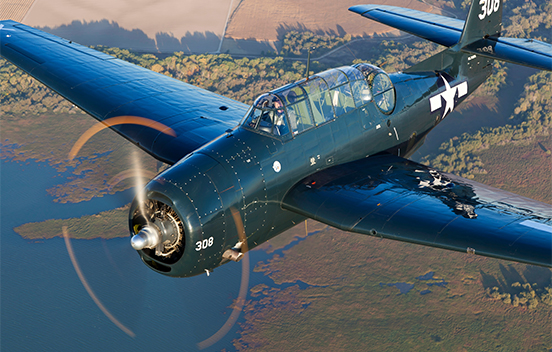 Grumman TBM Avenger
Past Visitor
The TBM Avenger was a torpedo bomber developed initially for the United States Navy and Marine Corps, and eventually used by several air or naval arms around the world. It entered U.S. service in 1942, and first saw action during the Battle of Midway. Despite losing five of the Avengers on its debut, it survived in service to become one of the outstanding torpedo bombers of World War II.
Although originally designed as a carrier-based torpedo bomber, the TBM Avenger also found use as a close-support bomber, patrol aircraft, and even a trainer. It was known as the largest single-engine, carrier-based aircraft of WWII. The Avenger was the first aircraft to feature a new "compound angle" wing-folding mechanism created by Grumman, intended to maximize storage space on an aircraft carrier.
Greatly modified after the war, Avengers remained in civilian use working as spray-applicators and water-bombers throughout North America until the 1970s.
Grumman TBM Avenger Specifications
Built:
Original construction in 1943, Tarrytown, NY
Engine:
Wright R-2600-20 radial
1,900 HP
Crew: 3
Armament:
1x 7.62 mm nose-mounted machine guns
2x .50 caliber wing-mounted machine guns
1x .50 caliber dorsal-mounted machine gun
1x 7.62 mm ventral-mounted mahcine gun
8x 5″ forward firing aircraft rockets
1x Mark 13 torpedo or 2,000 lbs of bombs
Length: 41′
Height: 15'5″
Wingspan: 54'2″
Empty Weight: 10,545 lbs
Max Weight: 17,893 lbs
Range: 1,000 miles
Service Ceiling: 30,100 ft
Max Speed: 275 mph